Browsing articles tagged with " manchester"
Manchester United won the curtain raiser to the English league after they beat Portsmouth 3-1 on penalties. The game which ended in a 0-0 after 90 minutes.The charity shield does not go to extra time but straight to penalties as the tie breaker. It was a very normal 90minutes with both teams playing their first competitive game for the new season.
The new Pompey signing of Peter Crouch who partnered Jermaine Defoe were not at their best and its totally understandable. Carlos Tevez was the best player on the field with his usual lively self making many attempts at goal but the impressive David James didn't provide him access to the Pompey goal.
Cant wait for the new season to get under way next weekend!!!
Its back! The curtain raiser to the new Barclays Premier League is tomorrow night! This year the opener See's FA Cup champions Portsmouth take on the League champions Manchester United. This season should be particularly interesting not because of the new signings by the so called "big four" but how the other teams are slowly closing the gap!
Teams like Pompey,Sunderland,Newcastle,Spurs,Man City and even Fulham are my takes to form the top half of the table. The teams that will be suffering this season? I think that Blackburn,Everton,Boro and West Ham are the big teams that will be warming the bottom half of the table.
Cant wait for the matches to start and the coffee shop managers to emerge again!
Who is your pick to win the Charity Shield?
[poll id="20"]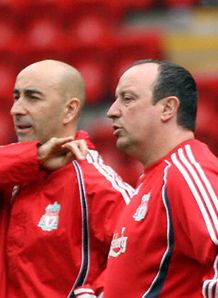 I read the most shocking news today at tribalfootball .  Apprently ex liverpool assistant manager is in line to become Sir Alex's new second man!! WTF?! Cant be good for Rafa! Nobody knows Rafa like Paco does and this could spell trouble,  i dont think the Liverpool fans be too happy with this piece of news…..if it happens!
United current asst manager Quiroz has being strongly linked to take over the Portugal hotseat left by new Chelsea boss Scolari
Latest Post
Categories
Archives