Browsing articles tagged with " Badawi"
Earth Hour is finally happening in Malaysia! It was confirmed today via the Earth Hour websites that Malaysia will take part in this global event which will happen for the 3rd year. If you don't know what Earth Hour is, it is a campaign that calls for individuals,businesses,governments to come together and to take a stand against climate change by a simple act of turning off your lights for a hour!
Simple yet has a huge impact! The event started in Sydney back in 2007 with 2.2million people taking part and went global this year with 35 countries and 50 million people taking part. Next year the target is 1billion people and 1000 towns around the world participating.
It will happen on the 28th of March 2009 between 8.30pm-9.30pm. In Malaysia hopefully we will have major landmarks and buildings around the country switching off with everyone coming together to take a stand against climate change. You may think that what does 1 hour do to help climate change??
But think about it if every one of us does our but, don't you think collectively we can make a difference?
Watch the below video about previous Earth Hour's Continue reading »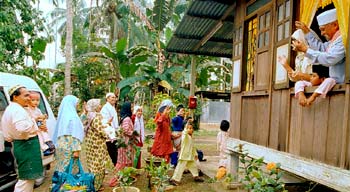 With time we tend to loose much of our true identities. I remember when i was younger, i used to balik kampung to my dad's hometown of Parit Buntar. After the passing of my grand mother, everyone decided to move out of the area to different places and i effectively lost my kampung. Till today i complain to the fact that i don't have a kampung to go back too and hopefully one day i can have a "artificial kampung" for my kids or grand kids. Why? Because i think by having a kampung it will be a reason for family to gather. Its a opportunity for you to move out of the city to a place where life is a few gears slower while getting the chance to mix and mingle with your fellow Malaysian brothers and sisters.
Identity as Malaysians is what keeps us as a nation together. We are blessed to be in a multi cultural society where we have so many different festivals and culture to be part off. As Malaysians we want to be able to be together during every festival to enjoy the different food,the attire,the whole celebration.
The prime minister's Raya open house is something that lots of Malaysians look forward too. Back in the day, my dad used to take us for the PM's open house where everyone that comes there gets to shake the leader of our nations hands and enjoy the festivities with every Malaysian there! Continue reading »
So the cat is out of the bag, PM Badawi has announced to not to defend his Umno president's post and will quit in March next year when the ruling party meets for its annual general assembly. The current PM is set to be he PM who held the premiership for the shortest time frame ever clocking 5years and 5months in office, 1month shorter than Hussein Onn who had to resign due to health reasons.
Now the transition plan to his deputy is underway with Najib set to become the next Prime Minister of the country. That is provided Najib bags the UMNO top post un-contested.Interesting that the PM still wants to hold on to office for 5 months for the "transition plan" to take effect and the transition is smooth.
So is Najib what Malaysia wants?
Source : Malaysiakini
Today is the day when the PM Badawi will announce if he will stay on and contest for the UMNO top job and Premiership of the nation.
Personally I feel for this man.I dont think he is a bad person but i get the impression that a prime minister needs to be wayyyy stronger than what he brings to the table. So I think he should go but I'm not a fan of his "transition plan".
My question is:
HOW DO YOU TRUST THE JUDGEMENT OF A PM THAT HAS FAILED??
Thoughts?
Ever wondered how a prime minister is decided? With Najib,Badawi,Anwar and now even Ku Li after the hot seat, the below article gives you a idea of the posibilities of how a prime minister can be elected based on circumtances.
EVEN as opposition leader Datuk Seri Anwar Ibrahim stumbled in his quest to unseat the government by 16 Sept 2008, the likelihood of a change in government lingers palpably. Questions now abound about how exactly Anwar can achieve forming the next government.
Some legal experts have said a vote of no-confidence in Parliament against the sitting prime minister, Datuk Seri Abdullah Ahmad Badawi, is the Pakatan Rakyat leader's only recourse.
Lawyer Tommy Thomas tells The Nut Graph what methods are constitutionally available for a change of premier. The constitutional lawyer explains the legal principles involved, stressing that blocking a vote of no-confidence in Parliament against the prime minister — which has happened twice already — is unconstitutional, as are attempts to detain Anwar or any other member of parliament (MP) at this juncture.
TNG: What are the legal principles established by the three cases: Stephen Kalong Ningkan (1966); the Privy Council case (Nigerian case: Adegbenro vs Akintola in 1963); and 1994′s Datuk Amir Kahar Mustapha vs Tun Mohd Said Keruak, which involved former chief minister of Sabah Datuk Joseph Pairin Kitingan resigning from his post?
Tommy Thomas: The legal principles established by the cases are this: In the Stephen Kalong Ningkang case, the court said, the only way to test confidence is by a lower house vote. That is the legal principle. So it is confined to one method only. In the Privy Council case from Nigeria and the Pairin Kitingan case, there was no lower house vote. Yet the courts said in both cases, the governor acted correctly. That's the principle to be drawn.
So the three reported cases we know of [involved] governors (the Sabah and Sarawak Yang diPertua's powers are similar to a governor's). Yet none of them is the decision of the head of state or a constitutional monarch. I personally know of no [such] cases.
So, in the Malaysian context now, there are no precedents to guide us? Continue reading »
Latest Post
Categories
Archives